We insist on selecting only authentic kimono products.
We sell tasteful works skillfully and deliberately woven by kimono experts rather than machine-made products.
In addition, our product lineup includes products with colors and designs easily blending in with current Japan, where most people dress in a Western style.
Please take a look at our products and look around our website!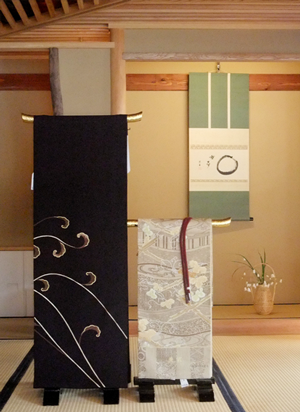 Even those foreigners who are interested in Japanese Kimono or Obi, are likely to find it difficult to use them practically.
We therefore suggest a bag made from Obi fabric, and a two-sided shawl decorated with Japanese kimono-style embroidery to people who usually dress in Western style as a good introduction.
Overseas customers also often purchase Kimono or Obi for display.
Please feel free to make enquiries to us by e-mail so that we can find out appropriate colors and patterns for your display use.
Since our products are not mass-produced, we will provide images and prices of products that are suited to the wall color and place of display.


One Day Kimono Experence
We provide one-day kimono rental services so that as many customers as possible can experience the goodness of the kimono. If you reserve such a rental service, you will just come to our shop and enjoy walking around the Kamakura area wearing the kimono.

[Basic services]
– Kimono rental services:
JPY 5,000 (Yukata)
JPY 10,000 (Tsumugi)
JPY 15,000 (Komon)
As optional services, we can arrange a sado –Japanese tea ceremony – experience and rickshaw services. In addition, we will help produce your original album of photos taken at famous historic scenes in Kamakura by sending a professional photographer with you. Furthermore, we can arrange a custom-made menu of sightseeing experiences for customers by using our CEO's connections in Kamakura.
[Optional services]
• Hair styling: from JPY 2,000
• Sado experience: JPY 3,000 per person
• Rickshaw services: JPY 7,000 (one person) JPY 9,000 (two persons) for 30 min
• Original photo album services: JPY 60,000 ~
• Custom-made sightseeing tour arrangement: Subject to sightseeing menu
*All prices are subject to tax.