Kamakura was the capital when the samurai ruled our country for the first time in 1192. Old temples and shrines, such as Tsurugaoka Hachiman Shrine, Kenchoji Temple, Enkakuji Temple, and the Great Buddha in Kamakura, attract about 20 million tourists every year. In addition, Kamakura prospered as the site of country homes for families of Zaibatsu conglomerates and cultural figures about 100 years ago. The refinement and lifestyle of the people who lived here were the subjects of admiration from people all over Japan.
Kamakura Carnival, a good combination of the Japanese style and the Western atmosphere, was the first Western-style parade in Japan. The first-of-its-kind Kamakura Beauty Pageant, with the additional purpose of auditioning for movie-actresses for movies, was held at the same time as the Kamakura Carnival. We provide the kimonos for auditions and awards ceremonies of the ongoing 'Miss Kamakura Carnival' as an official sponsor.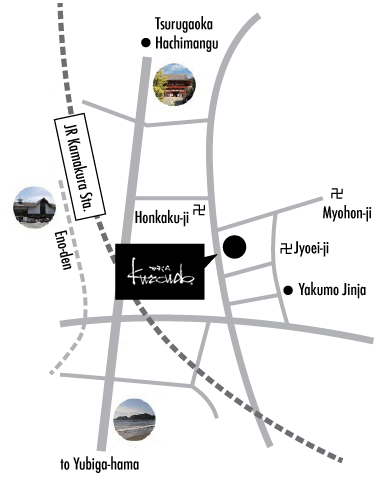 Kuroudo & Kamakura Map
Kimono Kuroudo Miyamoto is located in the heart of Kamakura city surrounded by many attractive historical spots and nature. It's only 6 minutes walk from JR Kamakura Station. We also have a parking lot for our customers.


How to get to Kamakura
By JR Yokosuka Line
The JR Yokosuka Line connects Tokyo Station directly with Kamakura Station. The one way trip takes just under an hour and costs 890 yen. Along the way, the trains also stop at Shinagawa Station, Yokohama Station and Kita-Kamakura Station among others.
(Tokyo – Kamakura about 55min / Yokohama – Kamakura About 21min)
By JR Shonan Shinjuku Line
The JR Shonan Shinjuku Line provides a direct connection between Shinjuku Station and Kamakura Station. The one way trip takes about one hour and costs 890 yen. Only trains bound for Zushi, that is roughly every second train (about two departures per hour), provide a direct connection to Kamakura. Otherwise, a transfer of trains is required at Ofuna Station.
(Shinzyuku – Kamakura about 57min)
*Above fees and schedules are subject to change.